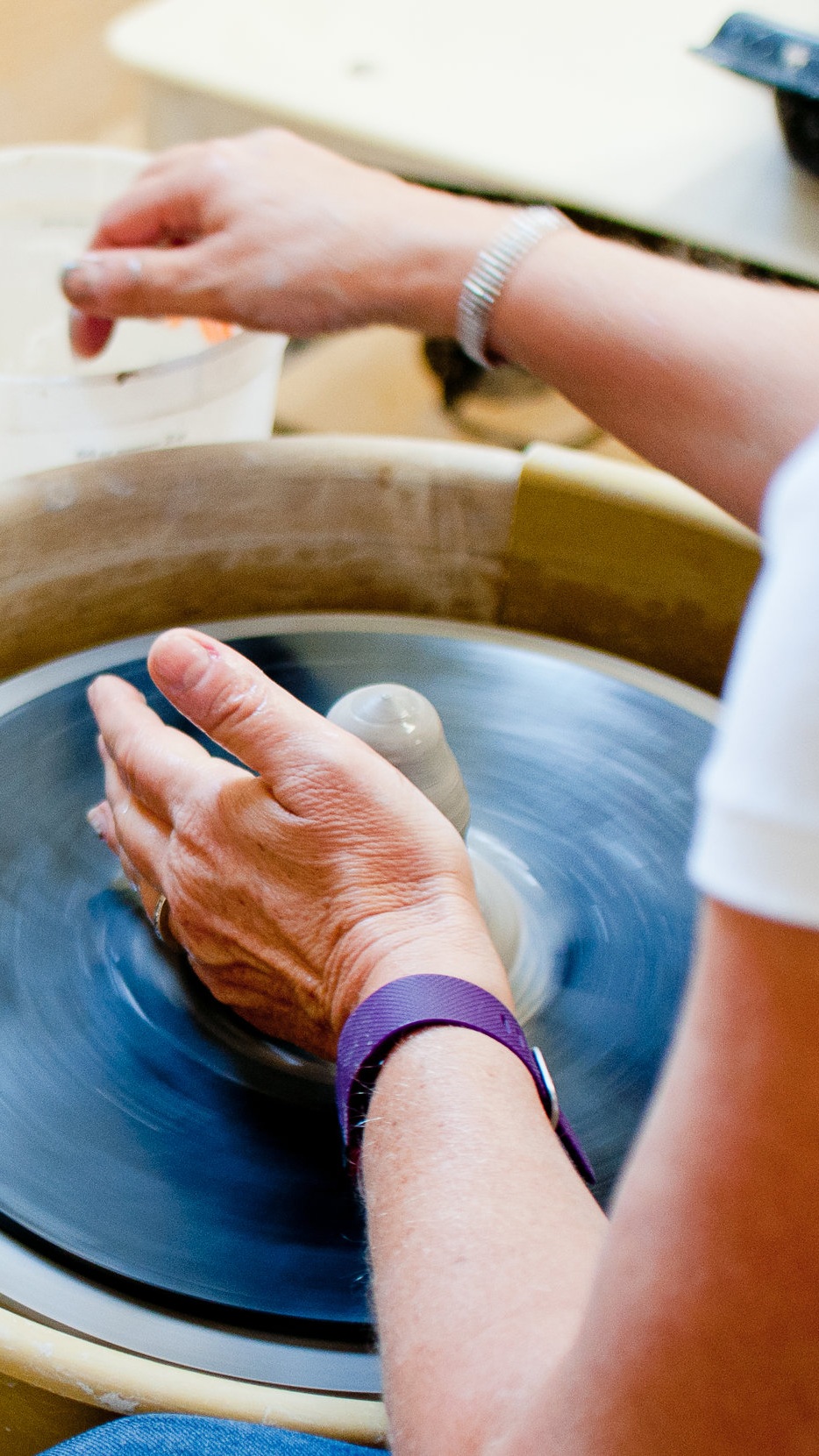 A.C. Studio classes are available for all ages. You are welcome to join any of our classes, whether you are a complete beginner, or if you have a little more experience. Full courses vary by instructor!
Courses are taught (mainly but not just) by ceramic artists from In Production, Alpharettas' local talent! Our teachers are all passionate about the craft, and they all sell work both at our location and online
What do you do in a class?
Students who come to learn at an A.C. Studios class will be instructed through each stage of the process of making their first pieces. Class participants spend some time learning shaping techniques, but almost all time will be spent throwing on the wheel.
You'll learn about preparing your clay, and techniques you can use to make forms,. You will also learn about the wheel, including how to center your work, and how to begin to form the various shapes that are possible using this technique (See some of our works here!).
Making things with clay is a multi-step process, each step of course will be taught one of our fine instructors here at A.C. Studios. We are elated with the idea of you stopping by and learning with us!
(For environmental reasons we encourage people to only fire work that they know they want to keep. Firing is an irreversible process. Clay can be recycled until it is fired; unwanted fired work can at best be used as aggregate in building supplies, but any unwanted project post firing can be left at the studio so that they can be used for our painting lessons later on!)
3 Ways to Love Clay
Whether you are looking for a fun pottery activity for an afternoon in historic downtown Alpharetta or want to take pottery classes to learn handbuilding or throwing skills, we have the best studio in the greater Atlanta area for you!
Carved Tumblers $30/ea.
Personalize your very own tumbler with unique surface designs!

Single session activity focused on creating decorations.

Usually takes 20-45 minutes.

Great for groups and parties!

Fully usable pieces are ready for pickup in 2-3 weeks.
Trial Session $35/hr
Spend an hour having fun and getting messy with the potter's wheel!
Includes a condensed demonstration by an expert potter.

Ideal interactive activity for trying something new: limited work is able to be fired.

Great for individuals, couples & groups up to 15.
Studio Membership $200/Mo.
The best way to learn the skills to make pottery.

Unlimited access to the studio during open hours

Includes studio materials & equipment.

Specialized instruction times offered.

All levels from beginner to advanced.